The Art of Sock Lengths: Elevating Your Style Game as a Man
Shorts should be worn now that the warm weather has arrived. But if you want to step up your summer wardrobe, don't overlook one crucial component: socks! That's right, by wearing their go-to shorts with a great pair of men's socks, guys can look fashionable and stay cool at the same time.
Socks are frequently categorized in accordance with their lengths in addition to color and design. Men's casual socks are typically those that are shorter in length, while longer styles are reserved for occasions that require more formal attire. You can categorize socks based on length types of socks for men:
No-show Socks
When adding socks to the mix won't quite go with your shoes and overall look, no-show socks are the ideal solution. The shortest socks available stop about an inch below the ankle, rendering them undetectable to the untrained eye. No-show socks provide many of the benefits of your standard sock without drawing attention to themselves. These socks may be well cushioned and capable of wicking away moisture depending on the material, keeping your feet dry all day. However, avoid wearing them with boots and high-cut shoes as they might not provide enough chafe protection.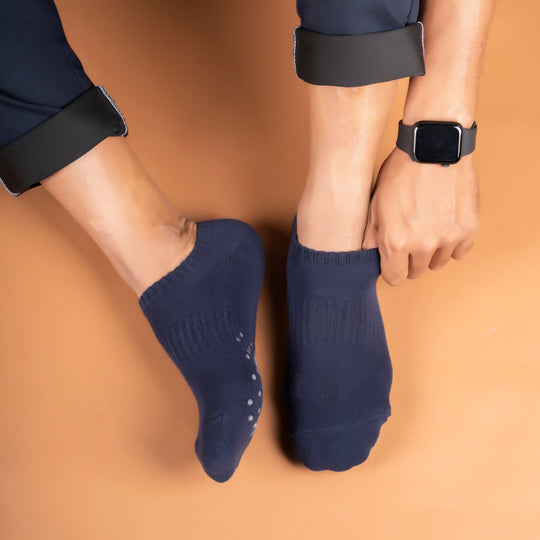 Low-cut Athletic Socks
Low-cut athletic socks are a bit longer than no-show socks and stop just under the ankle. Since low-cut athletic socks for men have a more functional appeal, they are not regarded as fashion accessories. They're a great companion if you want to spend the day engaging in physically demanding activities like going to the gym, trekking, hiking, running, or playing sports. But refrain from donning them in more social settings. No-show or Ankle socks are the more fashionable option when going out with friends.
Ankle Socks
This style of footwear falls somewhere between crew socks and no show socks, and stops either just below or just above the ankle. Ankle socks for men are a great choice for casual shoes and sneakers. If you find crew socks to be too formal or too constricting to wear on a hot summer day, then ankle socks are a good substitute.
Crew or Mid-Calf length Socks
The most common style of socks for men is crew length also called mid-calf length. These socks are made to cover the leg up to the mid calf region, and they go well in both formal and informal settings and with a variety of shoe styles, including dress shoes, boots, loafers, sneakers and everything in between.
Over-the-Calf Socks
The longest variety, over-the-calf socks, are last but certainly not least. These socks come to a point just below the knee and completely enclose the calf. If you want to avoid your socks bunching or pooling around your ankles at all costs, they are a foolproof solution. Be aware, however, that pairing over-the-calf socks with shorts is a fashion faux pas.
The Verdict:
The socks you choose can make or break an outfit, and they can also help you add a little personality to otherwise boring gym, casual or formal attire. Be sure to keep these categories in mind when selecting different types of socks for men. This will make it simpler for you to choose a pair that will go well with your appearance and sense of style.
At Soxytoes, our wide range of socks products are designed to be comfortable, allowing you to stand up (and out!) all day and breathe easily. To accomplish this, we make use of the best fibers, state of the art manufacturing techniques, and functional innovations.
---