10 Outfit Ideas and Ways to Style Socks for Women
Are you a big fan of unusual socks and quirky socks but unsure of how to wear them with your regular clothes? If so, read this guide to learn how to incorporate these socks with brilliant outfit ideas in your regular wardrobe.
How to Rock the Happy-Go-Lucky Look?
To pull off the care-free socks look, you don't need to be a pro. One can wear the socks in a variety of ways to suit their unique style and panache while also prioritizing comfort and functionality. Let us now have a look at the global trends that you can also incorporate in your daily look. 
The Athleisure Trend
Even though you might not be a professional athlete, you can still look like one. A pop of colour peeking out from your favourite sneakers can give your activewear some personality. Athleisure will continue to be a top trend in 2023. For a stylish addition to your regular loungewear, wear vibrant colored socks  with a fitness outfit or pull your socks over your leggings.
90s-Related
To create the sporty-casual look of your dreams, take a cue from Princess Diana of the 1990s and don a chunky sneaker with a cute sock, bike shorts, and an oversized sweatshirt.
Yellow Top and Yellow Socks
The phrase "yellow is the new black" is well known. For drawing attention, wear a large yellow hoodie or jacket with sunkissed yellow colored socks. The rest will be taken care of by some trendy heels embracing your socks. If you love funky socks, check out SoxyToes unique socks designs and discover a trendy collection.
Feminine and Fun
Athletic clothing, is not really your thing? A midi skirt or dress and the traditional  sock trend complimented with white sneakers will create a simple and feminine look appropriate for almost any season.
Think Different
In reality, there are no rules when it comes to  socks; you can wear them with pretty much anything, but they go particularly well with preppy attire. Put on a basic pair with a pleated skirt or pants and chunky loafers. If you don't like how these babies look scrunched, wear them straight or wear them inside your pants to reduce bulk instead of pulling them over.
Put some preparation into your step
The  sock is a useful addition to all personal styles thanks to its adaptability, but it suits the preppy look especially well. Follow Blair Waldorf's lead and wear a pair of socks with platform loafers, a fitted skirt, or a pair of slim-fitting pants.
Easy, Breezy Socks & Sandals
Socks can be worn all year round and aren't just for keeping our feet warm in the winter! For the ideal summer look, pair your sundresses and shorts with a quirky sock, Birkenstocks, or Fisherman sandal.
The undefeatable duo - Socks and Ballerinas 
If you think that socks can only rock your Stan Smiths Sneakers, think again! Go wild and wear a pair of polka dot socks with those cute little ballerina flats. This will further accentuate the beauty of your chic Girl -Next - Door summer or winter outfit. 
Make It Pop With Funky Patterned Socks
If you want to show off your socks without having to make them the main focus of your outfit, reach for your go-to pair of ankle boots and a skirt.
Choose quieter socks if the patterns on your clothing are loud. If your outfit is more subdued, pick a pair that complements your chosen color scheme. But if you want to, you can always wear your preferred pair of animal print socks or food socks.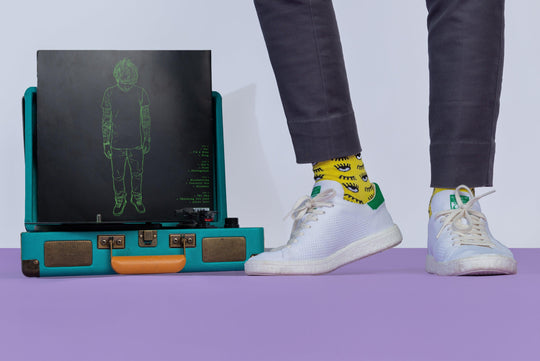 With White Shoes
This socks fashion is actually cute. You can wed a pair of socks with any shirt color you want, and they will not irritate your feet – they are worn so effortlessly under your white sneakers highlighting this fascinating contrast. Go Bold and experiment with a vast variety of ankle socks,
loafer socks
or youthful pop colored socks.
---