Most Stylish Socks for Loafers - 08 Socks and Loafers Ideas for Women
Loafers with socks? Huh? Who does that? Well, to your surprise, wearing socks with loafers has become quite the trend. Gone are the days of socks being hidden inside shoes; now, they take the spotlight as a fashion statement. 
So, if you're ready to step up your style game with your loafers, you need to pick the perfect pair of socks. Stay tuned till the end because this article talks about some of the most gorgeous and stylish socks to wear with your loafers.
Top 8 Loafers With Socks Ideas 
These are the top 8 loafer shoes socks that you must try:
1. Basic Crew Socks
Let's start with the classics. Basic crew socks are the epitome of comfort and versatility. They come in various colors, lengths, and patterns, making them perfect for any occasion. Basic crew socks will never let you down, whether you're going for a casual look or dressing up for a gala.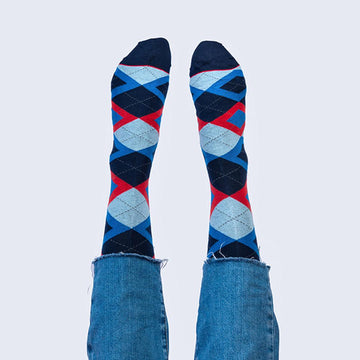 Plus, they provide that extra cushioning for your feet, ensuring a cozy fit with your loafers. It's like having a dress with pockets!
2. Ruffle Socks
For a touch of femininity and whimsy, ruffle socks are an absolute must-have. These adorable loafer shoes socks with delicate ruffles can instantly transform a simple pair of loafers into a charming and romantic ensemble.
You can choose pastel shades for a dreamy appearance and a summer girl vibe, or go for bold and vibrant colors to make a statement.
3. Sheer Socks
Sheer socks are an absolute beauty! They exude elegance and grace, making them a universal choice for any season. They look stunning with both formal and casual loafers, and their subtle sheen gives your feet a mesmerizing appeal.
So you can walk like the main character that you are!
While solid-colored sheer socks are a timeless choice, you can also experiment with patterned sheer socks to add a touch of excitement to your outfit. You can choose florals, polka dots, and whatnot!
4. Lace Socks
Who doesn't love a touch of vintage charm to their outfits? Lace socks effortlessly elevate your outfit, giving it a romantic and nostalgic vibe. 
You can choose neutral shades like white, cream, or pastel colors to create a soft and ethereal appearance. This combination works beautifully with flowy dresses, skirts, or even cropped trousers.
5. Knee Socks
Knee socks not only keep your legs warm but also give you the illusion of wearing knee-high boots. Now, that's something everybody loves! These loafer shoes socks are a fashion statement on their own and can add a touch of Serena Van der Woodsen to your outfit. 
Gossip Girl fans, hope you are reading this!
You can try these with loafers in neutral tones for a chic and polished look, or maybe choose contrasting colors to create a bold and #Fitcheck day! 
6. Polka Dot Socks
These timeless patterns never go out of style and can instantly uplift your outfit. These socks will definitely add a playful touch to your loafers. You can choose classic black and white polka dots socks or opt for colorful variations too.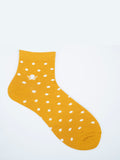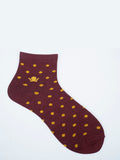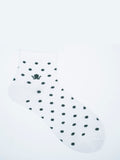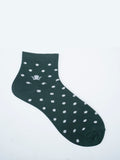 Polka dots are inherently associated with a retro and vintage aesthetic. So, remember to complete your look with accessories like cat-eye sunglasses or a headband to fully channel the retro vibe.
7. Fishnet Ankle Socks
If you're feeling a little adventurous and want to add a touch of edginess to your outfit, fishnet ankle socks are the way to go. These are perfect for the days you want to go out in a sassy fit.
These are the perfect socks to wear with loafers in bold colors for a striking contrast or neutrals to create a more balanced and chic attire. 
8. Striped Socks
Last but certainly not least, a true fashion staple. Stripes have always been a go-to choice for fashion enthusiasts. These socks will make a statement whether you prefer thin pinstripes or bold, wide stripes. 
And please, don't be afraid to mix different sizes and directions of stripes. Who knows, you might become the new trendsetter! 
The Key Takeaway
So, which one's your favorite? Probably all, right? 
Well, now you know that socks are not just supposed to be a hidden clothing item; rather, they can be a fashion statement that can elevate your entire outfit. So, the next time you slip into your favorite
loafers
, make sure to choose the perfect pair of socks to complement them
---