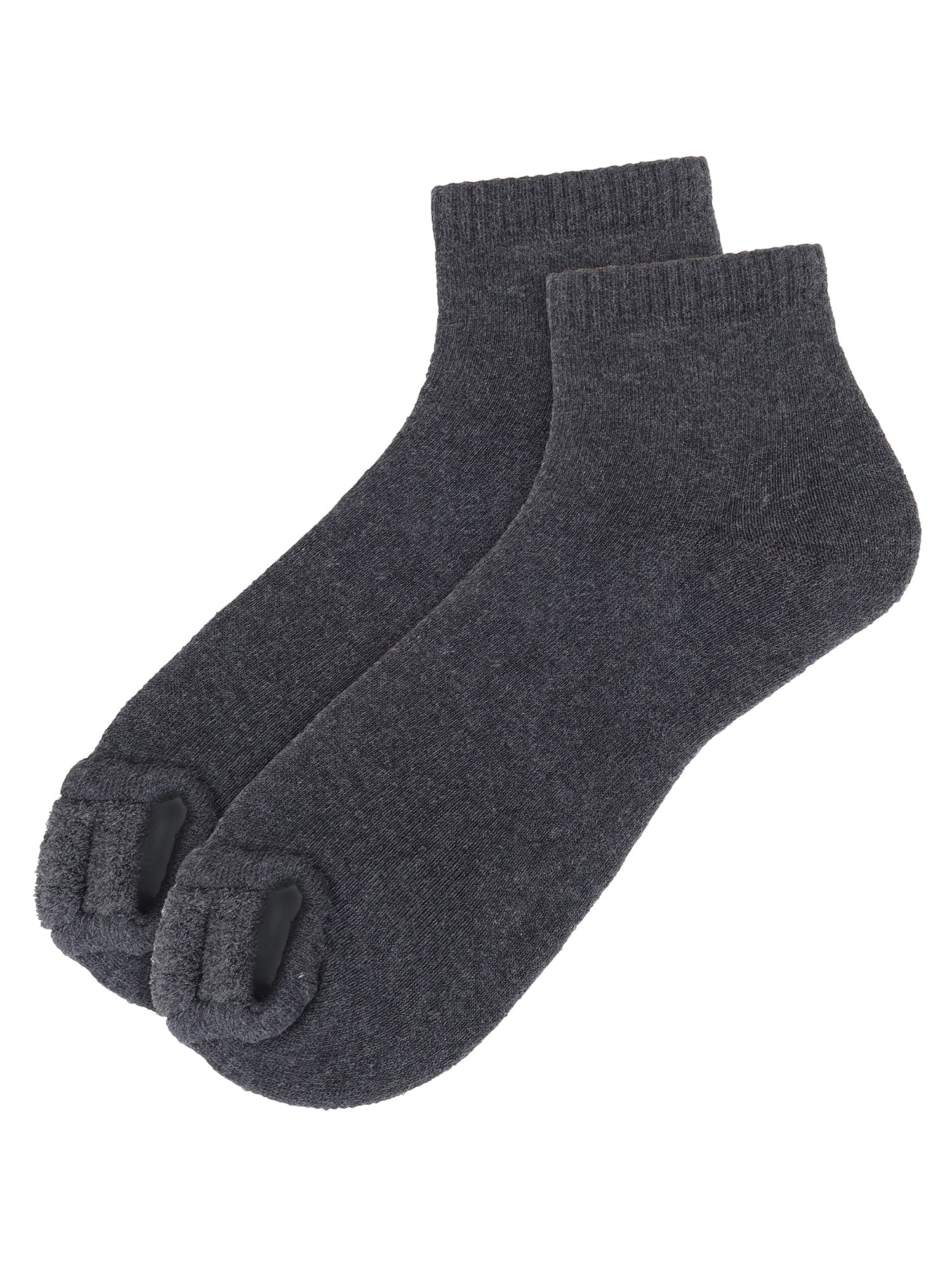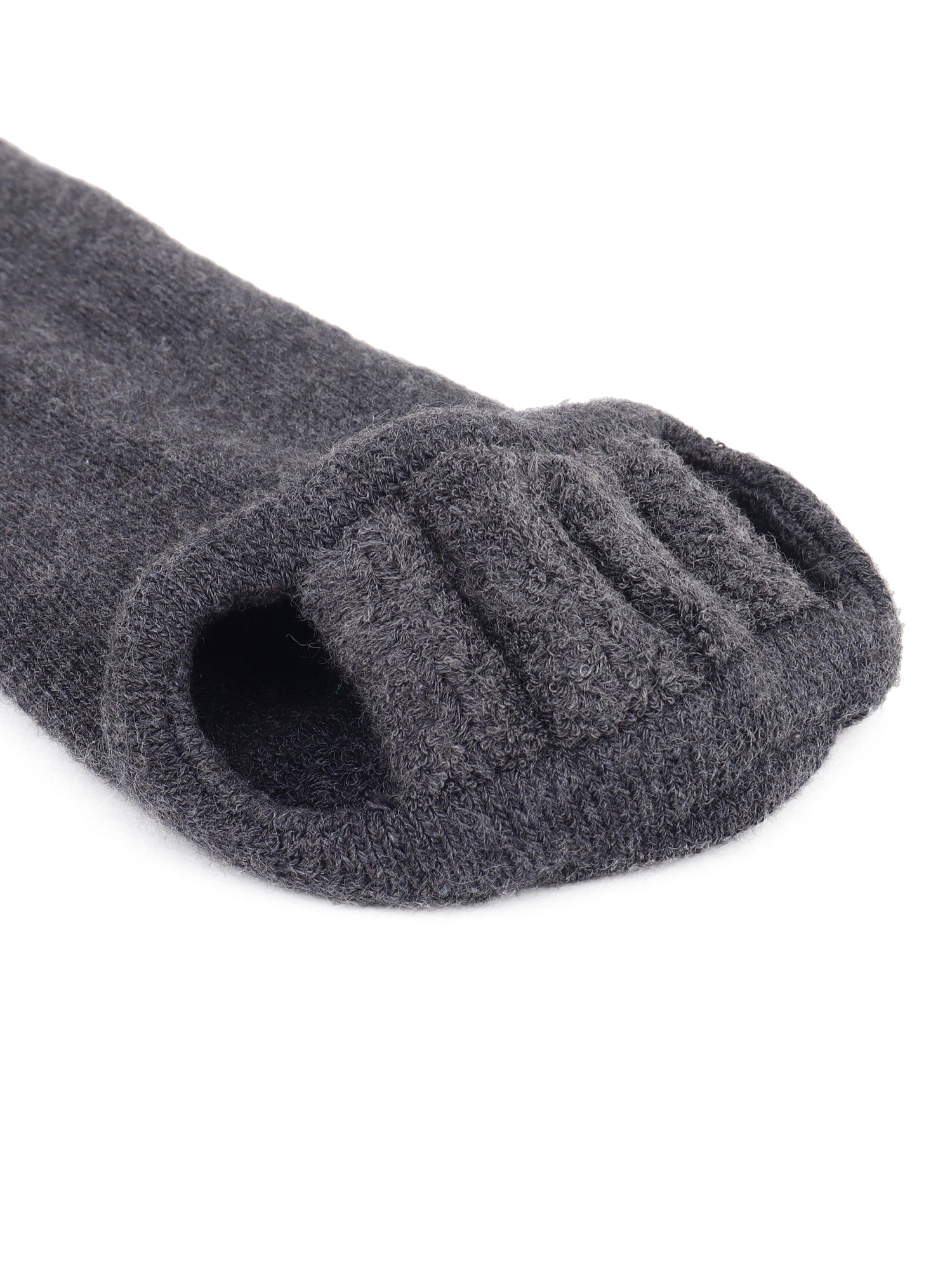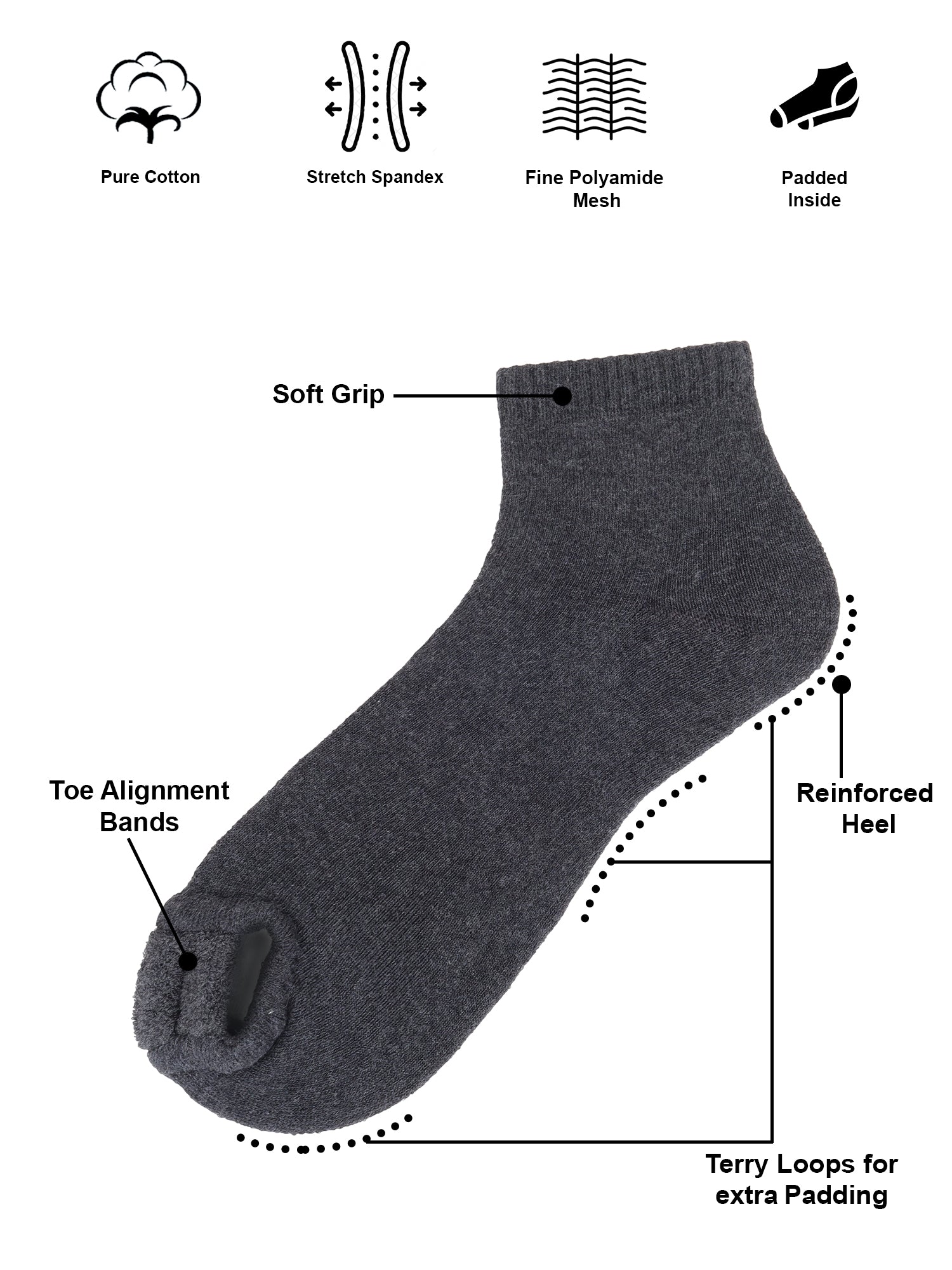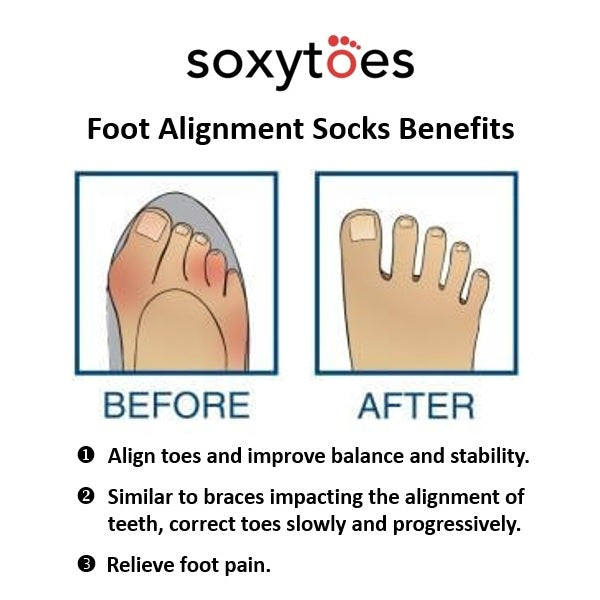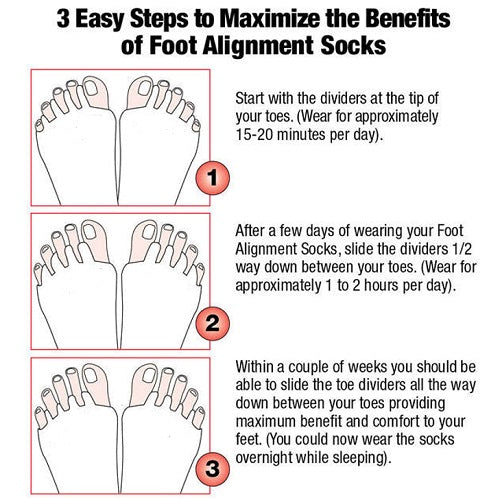 Foot Alignment Sock Grey Classic
Delivered within 3-6 days.
Available Offer
10% Off | Use Code SOXYTOES10
20% Off on min order of INR 700
Use Code SOXYTOES20

Premium Quality

COD Available

Free Shipping

Made in India
Length: Low Cut, Ankle
Size: Unisex | Free Size with Stretch Spandex
Washcare: Machine washable
Spread Your Toes
Soxytoes Foot Alignment Socks help the foot rehabilitate from the negative effects of conventionally shaped footwear. The socks have soft padded loops which fit snugly into the toe gaps and encourage the toes back into their natural alignment found at birth. With progressive and consistent use, toes align and feet strengthen, restoring your foot's original position and function. 
Soxytoes Foot Alignment Socks Benefits
Align toes and improve balance and stability.
Similar to braces impacting the alignment of teeth, Correct Toes slowly and progressively change foot architecture.
Structural changes create a wider base of support, improving balance, proprioception, gait and posture.
Strengthen muscles throughout the foot and lower leg.
Restore foot function and relieve foot pain.
Soxytoes Foot Alignment Socks are a foot health tool that can be used to restore normal and natural foot and toe function. Foot pain and problems can be resolved when the toes are realigned in the way that nature intended.
You Were Born with Perfect Feet
Babies' feet are designed to provide balance and stability. With a broad sole and splayed toes, feet form our foundation. In our society, foot shape and function change as we age.
As feet are exposed to conventional footwear, toes compress and curl. Rigid footwear and arch support diminish muscle activation and toe range of motion, causing weakness and atrophy in the foot. With the long-term use of restrictive footwear, our once dexterous and mobile toes lose their ability to move independently.
In cultures around the world who remain barefoot or minimally shod, toes maintain natural shape and splay, and foot and toe strength and dexterity is preserved through adulthood and into old age.
Why Do Soxytoes Foot Alignment Socks Work?
Soxytoes Foot Alignment Socks help splay the toes in the way that nature intended. Why is this important? We spend a lifetime in footwear, including most athletic footwear, that is too narrow at the ends of the toes. As a result, the shod adult foot shape differs from the unshod adult foot shape (and from the foot shape of infants, who are born with perfect feet).
Soxytoes Foot Alignment Socks work in a similar way to how braces work for teeth. It places the toes into optimal alignment and slowly and progressively changes the architecture of the foot. The muscles of the foot adapt and strengthen accordingly. Foot Alignment and foot strength has numerous positive effects on biomechanics, gait and injury prevention.
With Soxytoes Foot Alignment Socks, you can:
Relieve foot pain while being active
Align toes back to their natural, anatomical position
Improve strength and flexibility of the toes and feet
Increase circulation to the ends of the toes
Enhance balance and stability
 FAQ
Are Soxytoes Foot Alignment Socks for me?
No matter whether you have foot problems or not, these socks are for you. It is very important to maintain good foot health by preventing the harmful effects of fashion shoes, sport strain and other stresses on your feet. Soxytoes Foot Alignment Socks will do just that, by keeping your feet aligned with the rest of your body. Foot problems are more than an inconvenience. It effects how you walk, and since the foot is connected to the leg it has an effect on your knees, hips, and back…. all the way to your neck. Remember, it is easier to stay healthy than to get healthy.
What size should I order?
Soxytoes Foot alignment socks are Unisex and Free Size. They are stretchy, so they will accommodate a range of overlapping sizes from Women's shoe size 4-7 and Men's shoe size 7-10.
What materials are the socks made from?
The socks are made from pure and natural cotton with stretch spandex for perfect fit. The spacers are the same materials as the socks themselves.
How long should I wear them?
In the beginning you should wear them daily for at least 15 minutes or as long as they are comfortable. A slight discomfort is OK, but they should not be painful. Just elevate your feet and relax. Gradually you will be able to extend the length of time. Depending on your feet, you may or may not be able to wear them overnight. When they start to bother you, remove them.
What should I do when my feet keep hurting after I put the socks on?
It depends in what condition your feet are in. When your feet are too painful, the corrective action of the socks could be uncomfortable for a while. Start very slowly and if after a week or two the pain persists you are most likely in need of more extensive foot care, please consult a Podiatrist.
Can I walk in these socks?
Soxytoes Foot Alignment Socks are not designed for walking. Of course, you can walk in them across the room, but they are most effective in a relaxed position - when feet have no stress or pressure on them – i.e. sitting, lying down or sleeping.
How long should I wear these socks before I notice improvement in my feet?
It depends on what kind of improvement you are expecting. Your feet should feel better after the first week of wearing the socks. You will still have the bunion, but you will feel much better because you're in a lot less pain.
I am a diabetic, can I wear these socks?
Yes, but please consult your doctor before you do.
How should I wash these socks?
Like any other cotton socks, Soxytoes Foot Alignment Socks are machine washable. Please follow the simple wash care instructions on the tag.
Hammer Toes - How do foot alignment socks help?
The socks have soft dividers which go in between toes and gradually push the crooked toe in to its proper place, creating a space in between toes. Of course, this is a slow process. You have to be consistent and wear the socks daily at least 20-30 minutes minimum. Once you get used to wearing the socks you will be able to keep them on overnight to obtain the maximum effect with faster results.
Premium combed cotton
We use pure cotton that's soft, durable, and smooth against your skin. It shrinks minimally in the wash and will hold up wear after wear.
Bio-enzyme washed
Our cotton products are bio-enzyme washed which helps increase their natural softness giving the comfort of a well worn garment from day one.
All Day Comfort
All our products are manufactured with care to enhance the wearer's comfort - all day long!

COD Available

Free shipping over 499/-

40% off on purchase over 2999/-

Hassle free returns within 14 days of purchase

COD Available

Free shipping over 499/-

40% off on purchase over 2999/-

Hassle free returns within 14 days of purchase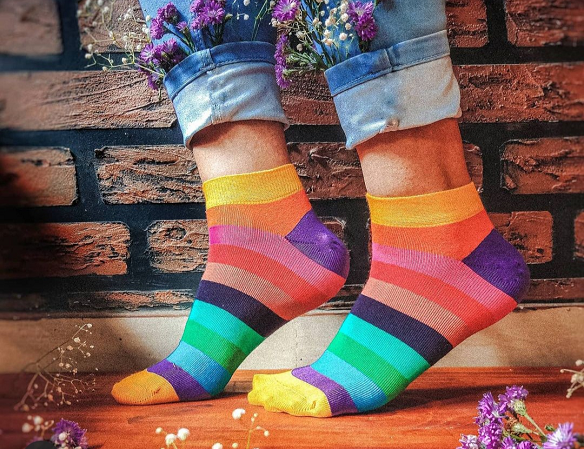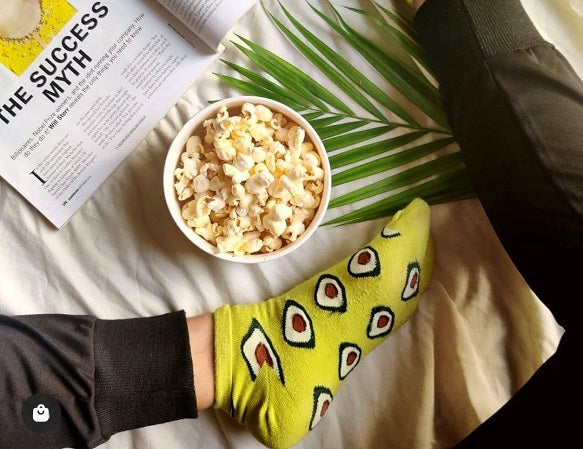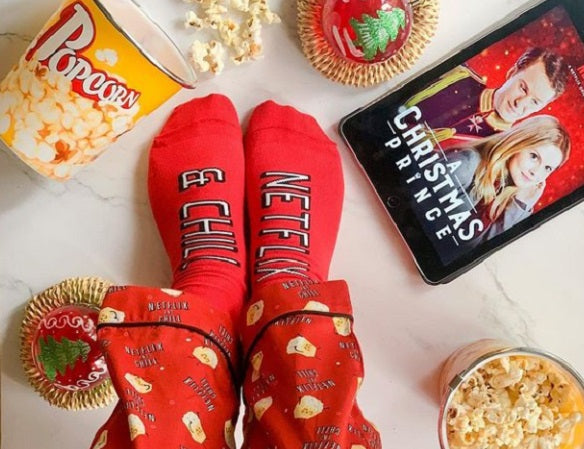 Shop with Benefits
Our tribe of Soxy-customers are our ultimate brand ambassadors, celebrating their uniqueness and individuality.
We love hearing from them, and watching them thrive and smile. With every bit of feedback we receive, we smile a little brighter too!
Shop with us. then upload reviews & pictures of your Soxy-moments on Instagram using #Soxytoes and stand a chance to win goodies every week!
SHOP NOW